Urbanaut Costs Less in Relative Comparison
of Energy Demand
(Vehicles with same passenger capacity)
v Energy to propel a vehicle is directly related to the weight of the vehicle
v Force = mass (acceleration) or (F = ma)
v A more massive vehicle will require more energy
v Because the Urbanaut has a smaller cross section and more aerodynamic shape than light rail, monorail and maglev vehicles, the aerial drag resistance requires less propulsion energy.
<![if !vml]>

<![endif]>
The Alweg monorail system is a 50 year old antiquated monorail concept that straddles (envelopes) a structural beam way that is an essential part of the system. In such a concept, the switching of guide ways involves flexing of a large massive beam way, which becomes cumbersome and expensive, and for this reason, this type of monorail has primarily been line oriented. Examples are Seattle, Disneyland, Disneyworld and Las Vegas monorails in the U.S, and the Kuala Lumpur, Malaysia and several monorails in Japan.
Heavy

<![if !vml]><![endif]>

Straddle Type Monorail

In this type of Monorail,
the "BEAM" is part of
the Basic System

Examples are:

Disneyland and
Disney World

Seattle Alweg Monorail

Las Vegas Monorail

Japanese Monorails

Light

<![if !vml]><![endif]>

The Urbanaut™

The "BEAM" is NOT part of the system, which has numerous advantages

1. Only a slab is needed at surface and in tunnels

2. Easy switching of guideways

3. Crossing of 2 guideways at same level is possible

4. Special "on-board" switch

5. Power and control along guide rail

6. Height of vehicle is 40-60% less

7. 50% less tunnel excavation required

8. A lighter vehicle means saving in costs: construction, vehicle and operations

9. Greater flexibility in planning and design of routes and guideways
A cost comparison by an independent consultant suggests that the advantage in flexibility of an Urbanaut® monorail installation is significant. The consultant estimates suggest costs may be only 50% of the Alweg type technology because of Urbanaut's® many features discussed above. This COST involved using the slab for an existing long bridge crossing a waterway.

"Total Projected O&M Cost for a Specific Project"
Operating Cost Elements

HOV/Bus
Alternative

At-Grade
LRT
Alternative

Urbanaut® Monorail
Alternative

Cost per Revenue Vehicle Km/Mile

$2.85/$4.60 (Dsl)
$2.70/$4.35 (CNG)

$6.95/$11.17

$1.55/$2.50

Cost per Revenue Vehicle Hour

$56.00 (Diesel)

$55.30 (CNG)

$150.00

$38.00

Cost per Place Km/Mile

$.04/$.06
(Diesel/CNG)

$.07/$.12

$.08/$.13

Total Average Annual Cost

$8,830,000*
(Diesel)
$8,350,000*
(CNG)

$12,621,150.*

$4,000,000.*
* Totals based on vehicle/train miles for equal number of passengers
Of the three alternatives, the monorail alternative has the most cost efficient operation and maintenance requirement ($4,000.000.). This results from its several advantages such as being elevated, fully automated, driverless operation of the monorail, virtually no collisions and related repairs, energy efficient on-demand service, and other.
In contrast, the LRT operation and maintenance costs ($12,621,150.) are high which is due to the complexity of hardware, expensive foreign-origin spare parts, mixed traffic operation, extensive labor required, and other contributing factors."
"Based upon our comprehensive cost analysis, it has further been determined that an elevated Urbanaut® alternative offers superior cost advantages when compared to other alternatives; especially in terms of operations and maintenance costs. While monorail presents a 9% greater capital cost (per mile) in contrast to at-grade light rail, it offers a 69% operations and maintenance cost savings. Further, monorail technologies are well proven and attract significantly greater public appeal."
**From "Automated People Movers VI", 2001
<![if !vml]>
<![endif]>
This illustration taken from "Civil Engineering Handbook" indicates the large, costly land area and space requirement for light rail at surface.
The Urbanaut®, on the contrary, will be elevated, with much less land and environmental impact on the community.
<![if !vml]>
<![endif]>
System Recently Installed in Several West Coast, USA Cities
Note:
v The complicated, ugly over-head electrical apparatus
v The interference with cross surface traffic and
v The complex, slow switching of rails
v This is 150 year-old technology, based upon heavy freight transport
Typical dual guideway light rail requires a very large, costly land area at surface and high clearance right of way for the power rail above. Note the tunnel in background with overhead roadway crossing. For frequent crossing at surface, gates are used which cause delays for pedestrians and autos.
v Steel wheel / steel rail (light rail) is noisy
v Cost of elevated light rail is several times the Urbanaut® cost
v Cost in a tunnel is 3 times the Urbanaut® cost
v The environmental visual and street impact of a massive elevated light rail is twice that of Urbanaut®
<![if !vml]>
<![endif]>

<![if !vml]><![endif]>

<![if !vml]><![endif]>

Illustration of switching of a variation of Straddle Type Monorail, by means of complicated, expensive apparatus which rotates a massive curved structural beamway 180 ° to switch the vehicle from one guideway to another.

The switch beam has running surfaces and flanges protruding out to support the guide wheels at top and bottom, and separate power and control conduits along the lower side of the beamway.

You may visualize the complexity involved of applying such a switch within an urban environment.
<![if !vml]><![endif]>

<![if !vml]><![endif]>

Cross-Section of Alweg Beamway with Wheel Bogie
Switching of monorails that straddle or envelope the beamway involves flexing the whole structural beamway for elevated as well as surface guideways.
For an elevated guideway, a platform comparable in size and cost to a station is needed to support the switch and me
Automatic Inexpensive Maintenance and Servicing of Urbanaut Vehicles
<![if !vml]>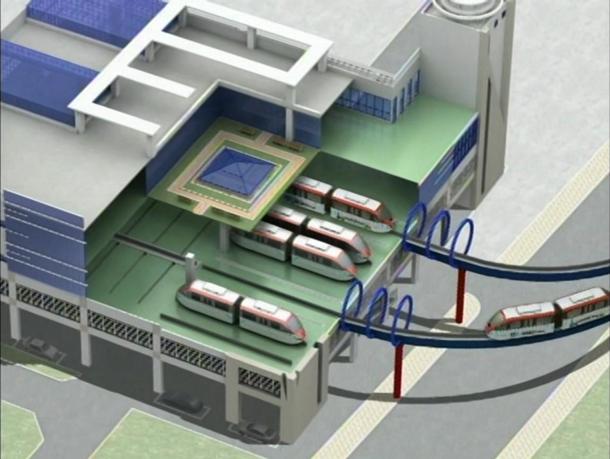 <![endif]>
From the main guide way, vehicles (trains) are automatically switched onto a highly efficient automatic service and regular maintenance facility. For major overhaul, replacement of tires, etc., vehicles are moved forward into an adjacent mechanical service section.
Within these facilities the guide rail is removed, the Urbanaut is kept perfectly stable by the separated load wheels in the bogie. Most of the vehicle maintenance is automatic and manual cost is reduced to a minimum, part of the effort to make the operation profitable.
For larger trains, the facility shown is expandable.
Facility and land area needed is 10 times larger and more costly than the Urbanaut®'s Facilities
<![if !vml]>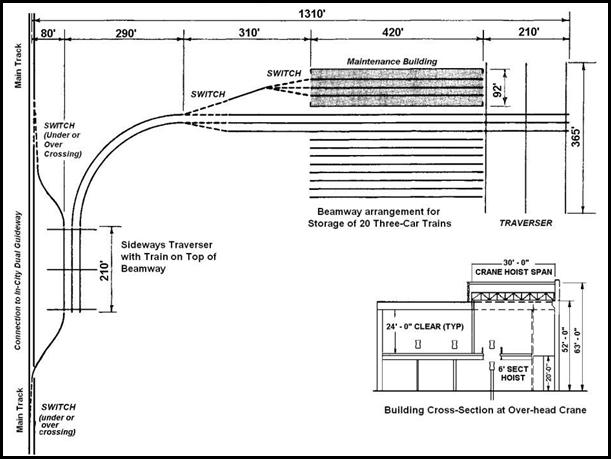 <![endif]>
The complexity of the maintenance facility required for a high capacity Straddle Type monorail is illustrated above.
Trains are taken from the Main Track by 2 flexible switches onto a short spur track which leads to several traverser switches. The beamway with the train on top will then be moved sideways to the two entrance tracks of the yard from which it enters the maintenance building or is placed in storage. An additional traverser will move trains laterally from one storage area to the other or to a 20 m (63 ft) tall maintenance building.
Note: The vehicle and massive beam are inseparable.